Wafer Mounter
This is a high performance wafer mounter of high-throughput. The line-up consists of five product types that vary in accordance with fully-automatic or semi-automatic functions, as well as wafer size.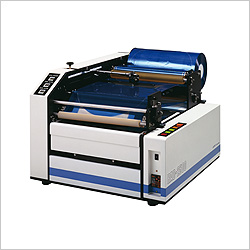 1. Semi-automatic mounting system for pre-cut tape
This equipment allows easy operation using pre-cut tapes. By simply set the wafer and frame, dicing tape mounting is automatically processed.

2. Safety ensured for manual process
Since this equipment has no cutter, the operation is extremely safe. Elimination of the tape cutting process substantially increases efficiency.

3. TTC* system for accurate tape application
The equipment's TTC system enables tape application with tape tension control, prevents air voids, and provides ideal tension for back-end process. *TTC (Tape Tension Control) System : The TTC is a cutting-edge system, in which a microcomputer controls tape tension. It enables the tape to be laminated according to the tape type and back-end processing conditions. On the fully-automatic type, it can be set and registered with the equipment's touch screen.

4. Reduced footprint and high performance
This equipment achieves high performance with the reduced footprint. It allows effective use of workspace and increases work efficiency. *Can also be used for special mounting of package substrates (special specification).
Options:
Static eliminator
Wafer positioning pins
In-Line Precut Unit
PKG Mounting
RAD-2500F/8 (200mm Fully-Automatic Wafer Mounter)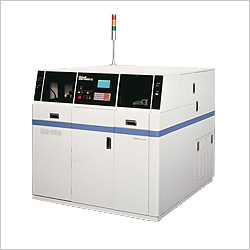 1. Wafer mounter for pre-cut tape
This is a wafer mounter for pre-cut dicing tape. It is designed for the improvement of resources and productivity.

2. High reliability
Distribution from worldwide and the repeat orders for RAD-2500F/8 are proof of the equipment's recognition for its outstanding reliability.

3. High speed operation
Max throughput is over 100 wafers per hour. While maintaining product quality, the equipment guarantees speedy and dependable work. *Can also be used for special mounting of package substrates (special specification).
Options:
Host communication function
(communication format: conforms to SECS-I and HSMS/Software: conforms to GEM)
RAD-2510F/12Sa (300mm Fully-Automatic Multifunction Wafer Mounter)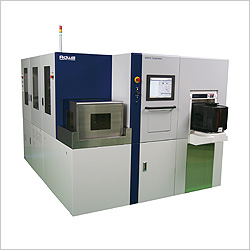 1. Compatible with ultra-thin wafer
This is a stand-alone system, and the ideal wafer multi-mounting system for ultra-thin wafer manufacture. From UV irradiation following the back grinding process, to alignment, mounting on dicing frames, and peeling of Back Grinding Tape, all in a single machine.

2 .Wafer handling cycles minimized
The handling frequency of wafer is reduced to four times in stand-alone, and reduced to two times in in-line system. As a result, the damage to wafer is suppressed to the utmost limit.

3. High throughput
High throughput is achieved by optimizing the transfer component. *There is an increase in throughput of approximately 60% relative to general equipment (Throughput compared by the operation of 300mm bare wafer. Actual throughput varies with lamination and peeling conditions).

4. Reduced footprint
It has an extremely compact design, which measures 2,165mm(W) x 3,090mm(D) x 1,800mm(H) (not including the signal tower and protruding parts). *Compact design reduces equipment footprint by approximately 30% relative to general equipment.

5. Dicing tape with in-line pre-cut system (optional)
Even if non pre-cut dicing tape is used, the optionally installed tape cutting mechanism with an unique in-line pre-cut system will not damage the ring frame as the tape cutting is conducted inside the equipment.

6. Heat seal/adhesion peeling tape lamination
For Back Grinding Tape removal, both heat seal method and adhesive tape method (optional) can be used together in accordance with the physical properties of the Back Grinding Tape used.

7. Supports DBG process (optional)
In addition to regular ring frame mounting with 300mm/200mm wafers and removing of Back Grinding Tape, this mounter supports the DBG (Dicing Before Grinding) process, which is ideal for thin die fabrication.
Options:
Host communication function (communication format: conforms to SECS-I and HSMS/Software: conforms to GEM)
Vision system (wafer ID reader & barcode attachment system)
Dicing tape in-line pre-cutting
DBG process compatibility
In-line operation with DISCO Corporation DFG8000 series or DGP8000 series
Bernoulli Handling System
Wafer Mounting Measurement System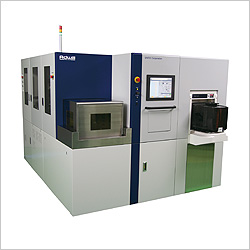 1. Equipped with pre-cut tape vacuum mounting function
High-precision wafer mounting is achieved for wafers with specially shaped backside that makes difficult to mount with the roller method.

2. Performs tape mounting without contact with wafer surface
By using our unique wafer holding table, wafer mounting is performed without contact with the wafer surface.

3. Adopts backside non-contact wafer handling mechanism
By adopting the non-contact wafer backside handling method, contamination caused by contact is eliminated for wafers with specially formed backside used in the manufacturing processes of power devices and TSV.
Options:
Host communication function (communication format: conforms to SECS-I and HSMS/Software: conforms to GEM)
Vision system (wafer ID reader & barcode attachment system)
Dicing tape in-line pre-cutting
Bernoulli Handling System