Other Equipment
This is a laminator exclusively designed to optimize the lamination of LC Tape on 300mm wafers.



RAD-3600F/12 – 300mm Fully Automatic LC Tape Laminator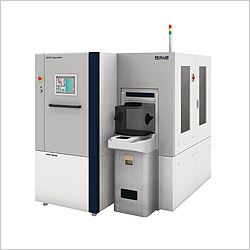 1. LC Tape laminator
This is an optimal system realized to meet the property of the backside coating tape (LC Tape), which is used in Flip Chip packaging.

2. High-precision tape lamination attained
By applying LINTEC's unique lamination mechanism, high-precision tape lamination without voids has been achieved.

3. Internal tape pre-cutting mechanism
The internal tape pre-cutting mechanism cuts the tape to wafer size prior to lamination, preventing potential wafer edge damage caused by the cutter after lamination.
Options:
Host communication function
(communication format: conforms to SECS-I and HSMS/Software: conforms to GEM)
Double cassette loading
Wafer ID reader